Manthan – All Set To Conquer The Stage
Life, with its many uncertainties and challenges, is made a lot better by the various forms of entertainment and the creative forces behind them – entertainers. Manthan Jikadra, an Akshaya Patra beneficiary from Maharana Pratap Primary School in Surat, Gujarat, studying in Std VI, wants to be one such entertainer. This diamond in the rough wants to become a stage actor, wanting to entertain a live audience with his dramatic performances.
Manthan diligently attends school, as he believes that education is the vehicle to his dreams. He also likes opportunities to participate in different programmes arranged in school. Recently, the young boy, the son of a father who is a teacher and a mother who runs a small-time tailoring business, took part in an elocution competition centered on the Swachh Bharat Abhiyan.
Akshaya Patra's delightful little blue van that delivers its mid-day meals to Manthan's school has made quite an impression on his mind – he remembers its details vividly. About the food, he says, "Akshaya Patra food is tasty and protein-rich, which is why we like it. It is very nutritious, prepared using carrots, pumpkins, and other such healthy vegetables. The menu is different every day; sometimes there is Dal Dhokli, sometimes Khichdi."
In conclusion, Manthan opines, "If we want to be healthy, we should eat this food. It helps in our overall physical and mental development."
We wish Manthan all the very best and hope he brings much joy and entertainment to audiences with his performances!
VIDEO
GALLERY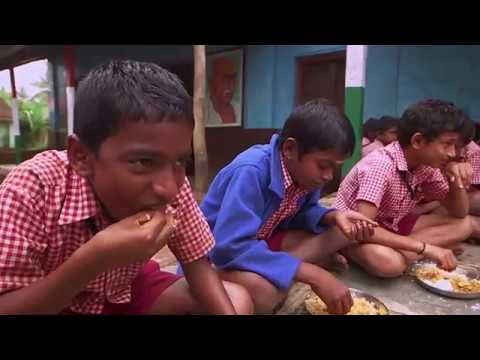 The success of our initiative can be attributed to several factors, including the efforts of all those people who work behind the scenes … the Passioneers as we like to call them. Watch their story here
News
On July 1, Akshaya Patra had the pleasure of serving food to Shri Yogi Adityanath, Chief Minister of Uttar Pradesh
FUNDRAISE WITH US
Support us with an online fundraising campaign!