Since the beginning of rolling out of vaccines, now more than ever, many high-risk and vulnerable populations have been left out – poor, homeless, elderly, disabled, transgender people, migrants, construction workers, urban poor, rural, tribal communities and so many more.
Akshaya Patra's support
Akshaya Patra organizesIncentivized Vaccination Drivesin association with private hospitalsand the permission of local government bodies to make vaccines available to vulnerable people.
When you support this NGO's vaccination drive, you help in: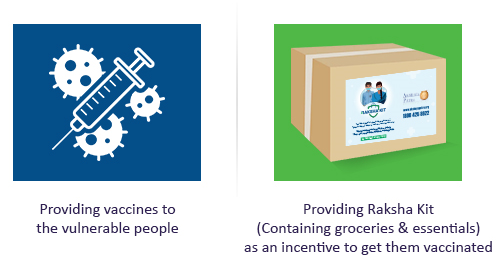 You also help them:

Make up for hourly/daily wage loss

Skip long waiting lines

With cost of vaccine
Raksha Kit
Each Raksha kit will provide 21 meals or give food &essential commodities that can help families sustain for 10 days. This becomes an incentive to help them get vaccinated.
With this initiative, we hope to reach out to and encourage people from economically challenged backgrounds to step forward to take the vaccine.
SUPPORT AKSHAYA PATRA TO INCENTIVIZE VACCINATION FOR THE MARGINALISED
Note : "This site is best viewed in IE 9 and above, Firefox and Chrome"
Charity Id : AAATT6468P